Kristin Flyntz
Gathered by Elders
The future enters into us, in order to transform itself in us,
long before it happens.
Rainer Maria Rilke
Oaks are a keystone species, which means without them, the ecosystem in which they live may struggle, fail, or experience radical alteration.
They are also the ultimate community builders. When 1,500 elder Oaks in France were slated to be killed to rebuild the spire of Notre Dame cathedral, they gathered us—Indigenous and non-Indigenous individuals from different generations, cultures, geographic locations. They came in a variety of ways, including dream and vision, via social media, and in my case, through my friend Sharon Simone. Over six weeks, as we sought to spare them from the chainsaws, the Oaks called forth each person's unique gifts and strengths. One of us wrote a petition. Another secured funding for the video. Another built a website, and yet another started a virtual "tree sit" that drew visitors from around the globe 24/7 for two months. Still others organized events, led discussions, facilitated far flung connections, contacted influential individuals and organizations. Each of us contributed something distinctive and essential to the whole, as it is in the forest.
"The Last of the Keystone Species Exhibit"
Early in our work with the Oaks, I found myself in a particular landscape that exists in the liminal space between waking and dreaming—a place in which I confronted some of the potential implications of our current dire trajectory. Here is what emerged from that experience: https://soundcloud.com/user-649896546/keystone
My sense is that the Oaks, who are now Ancestors, gathered us not necessarily or primarily on their own behalf, but on behalf of the future. So many of the challenges facing the planet—a warming climate, biodiversity loss, lack of clean and available water, air pollution—can be mitigated or healed by protecting the remaining forests, particularly Old Growth forests, of which precious few remain. In addition, there is perhaps no better model for what is required for an ecosystem—a community—to thrive than the forest: diversity, cooperation, collaboration, a commitment to "we" rather than "me."
Sharon and I, in collaboration with Sustainable Human, created a video to raise awareness of and support for the 1,500 elder Oak trees. We wanted to convey who the Oaks are to their communities and who else is imperiled when they are taken from their homes. Would You Sacrifice the Ancient Oaks?
As COVID-19, wildfires, and other extreme weather patterns surge across the globe as the results of human activity, I believe the Oaks—and species of all kinds—are actively, intentionally reaching out and inviting us back into relationship with them. Initially, I thought I would be working to "save" the trees. I no idea that I was entering into a relationship with them, with the energy of Oak, that would guide and teach me well beyond our attempts to spare their lives.
---
About the Author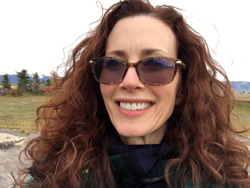 Kristin Flyntz lives in the woods of northern Connecticut with her husband and two feline teacher-companions, Ophelia and Zoe. Her work has been published in Dark Matter: Women Witnessing, Cloud Women's Quarterly Journal, and The Corona Transmissions: Alternatives for Engaging with COVID-19 from the Physical to the Metaphysical. Thanks to the Oaks of France, she is currently following the Fairy Creek blockade in British Columbia, where forest defenders are taking nonviolent direct action to protect the last remaining 2.7 percent of British Columbia's old growth forest in unceded Pacheedaht and Ditidaht ancestral territory. https://laststandforforests.com/.
To comment on this article, please click here.
---