Margo Berdeshevsky
Stand
If ever I raised a daughter in this now—
would I name her time bomb and wait?
Char-lunged bird of no paradise
left—
Who holds the winning hand?
Phoenix, have you any &nbsp &nbsp &nbsp &nbsp will left
to rise
In flames or in ice or in effigy —stand —
This tumult of hands that reach through smoke
keening — call it — salvage — scream — prayer
Stand. The black wind blows through me.
Imagine the coils of organs inside a body
do they want to be held by the skeleton around them
when it burns? While it is alive?
The forests are collapsing inside the body.
Weight of scorch-stained air
closing them in, &nbsp &nbsp &nbsp &nbsp their bloods &nbsp &nbsp &nbsp &nbsp drumming
Who can they beg to hold them?
How long
will they still dare to breathe?
Once in the flames, did martyrs
have a moment of wanting
yet, to live?
One time I begged a lover to hold me, after —
Does a tree, when she is wrapped in hands of fire
beg to be held?
Tumult of hunger &nbsp &nbsp &nbsp &nbsp we say world
Avalanche of hands &nbsp &nbsp &nbsp &nbsp we say greed
Phoenix, have you any will
now, still, to stand
?
NOTES
STAND is for the Amazon—and for all lands burned, and burning…
When Change Hurts the Soul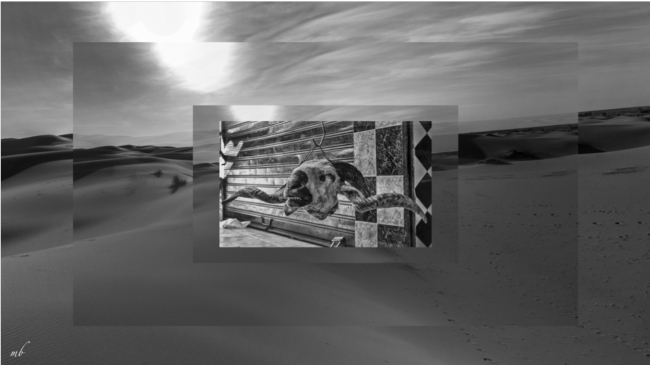 In the Land of Afterwards
NOTES
The overall title I'd offer for these images is "When Change Hurts The Soul." We are so afraid of the changes that seem inevitable. Both images I have made here offer the darkening and the change it goes through, the illness and the need for balance between what is life and what is, yes, a death... and what lies in between. As both a poet and a photographer, I work with layers, and montage, and metaphor…and this is one way I believe I can look at the theme Deena has offered. For meditation, for conjuring, and for healing, if we dare. Layer under and over layer, image leading our perceptions beneath and above the obvious.I begin by looking at what frightens me/us. Admit the hurt. Admit the soul. And then…ask for the next and the next day to dawn. The next door that seems closed and rotted—to open. The next vision of a land of afterwards, to form in my own heart. The hope for something more than night…
---
ABOUT THE AUTHOR
Margo Berdeshevsky, born in New York City, often lives and writes now in Paris. Her newest poetry collection, "Before The Drought," is from Glass Lyre Press, (September 2017.) (In an early version, it was finalist for the National Poetry Series.) Berdeshevsky is author as well of 'Between Soul & Stone,' and 'But a Passage in Wilderness,' (Sheep Meadow Press.) Her book of illustrated stories, 'Beautiful Soon Enough,' received the first Ronald Sukenick Innovative Fiction Award for Fiction Collective Two (University of Alabama Press.) Other honors include the Robert H. Winner Award from the Poetry Society of America, a portfolio of her poems in the Aeolian Harp Anthology #1 (Glass Lyre Press,) the & Now Anthology of the Best of Innovative Writing, numerous Pushcart prize nominations. Her works appear in the American journals: Poetry International, New Letters, Kenyon Review, Plume, The Collagist, Tupelo Quarterly, Gulf Coast, Southern Humanities Review, Pleiades, Prairie Schooner, The American Journal of Poetry, Jacar—One, Mãnoa, Pirene's Fountain, Big Other, among many others. In Europe her works have been seen in The Poetry Review (UK) The Wolf, Europe, Siècle 21, & Confluences Poétiques, Recours au Poème, Levure Littéraire. A multi-genre hybrid of poems, Square Black Key, waits at the gate. She may be found reading from her books in London, Paris, New York City, Los Angeles, Honolulu, or somewhere new in the world. Her "Letters from Paris" may be found in Poetry International, here: https://poetryinternationalonline.com/category/letters/letters-from-paris/ … For more information, kindly see here: http://margoberdeshevsky.com
All works presented here, poetry and images are © Margo Berdeshevsky

To comment on this article, please click here.
---